We are not long out of the meeting with the authorities Re #AUOBEdinburgh, where we sat round a table with Edinburgh council, Police Scotland and Historic Environment Scotland (HES).
We are proud to announce that Police Scotland have made an executive decision in the interests of health & safety and public order to facilitate our stance that we are Rallying at Holyrood park and are implementing emergency powers to make this happen.
HES maintained their political stance that we were still refused permission but after a long meeting where we held to our principles we are delighted to announce Holyrood park is ours Tomorrow.

AUOB – Facebook
Many are speculating that the event this Saturday will attract the largest turn out yet in the series of marches across Scotland for Scottish Independence. The organisers however appear to be facing opposition from the public body HES.
Historic Environment Scotland have denied the use of Hollyrood park by All Under One Banner to hold their after march rally based on the claim that they have to remain politically neutral.
The news of this set back has sparked a number of pop up Facebook events that just so happen to be taking place at the venue around the same time such as…
And many others.
AUOB are meeting with HES again in a last ditch effort to get permission to hold the organised rally in the interest of public safety. If AUOB prove to be unsuccessful in their negotiations at least there may be some Jeely Pieces or a spot of Croquet available on the day.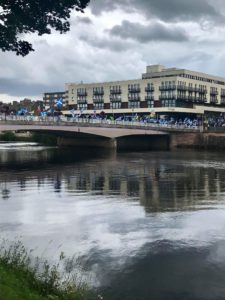 The AUOB Inverness march was well attended and everyone was in good spirits. Yes Nairn were in attendance carrying the banner for the local group. Photos can be viewed here on Flickr.
The Unionist Group "a force for good" lead by ex-UKIP member and holocaust denier Alistair McConnachie were also at the event expressing their own views. A video of their efforts can be found here on the organisation's Facebook page.
Independance Live compiled a time lapse of the crowd crossing the River Ness which can be viewed here.

The march ended with a rally at Castle Heather park with many guest speakers, this too was covered by independence live.
The stewards did a very good job at keeping the attendees safe and overall it was a rather successful event.