Nairn PLAY will be joining Green Hive on the Riverside Fun day. The event is to be held on the 20th of July 12pm till 3pm at Riverside Park. Come along and view our play park plans, give us your feedback while taking part in the activities taking place on the day.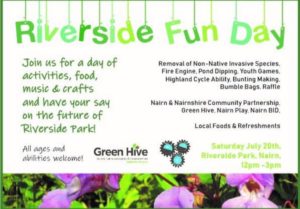 Re-blogged from Green Hive – https://greenhive.co.uk/2019/05/06/annual-general-meeting-2019/
Thursday 23rd May, 7pm
Nairn Sailing Club, Nairn Harbour
Join us for a celebration of the achievements of Green Hive volunteers and in looking forward to what's next as our organisation grows. For Green Hivers old and new!
You will hear about the work and achievements of the Green Hive team and have the chance to shape plans for our next year. We will be starting our first social enterprise project in the coming year, as well as growing our existing orchard project and Bumblebags up cycling project.
Join our membership by visiting our website or sign up at our AGM, to vote on who sits on our board. Board members are Directors and Trustees of the charity and oversee the work of the organisation on a regular basis.
Apply to be elected to our board and join this motley crew by emailing us at [email protected] telling us a little about yourself and why you'd like to stand.
More information on our board of directors can be found here.
Join local artist Meghann Harris and Nairn Eco on Saturday 13th for a collaborative community art work highlighting excess plastic use with everyday packaging.