Join us at the Green Hive Hub at the Old Links School this Friday 21st Dec 6-8pm.
There will be mince pies, drinks and snacks, but feel free to bring a drink or a dish along too. The more the merrier so do bring friends or partners, all welcome! RSVP to let us know you are coming by emailing kirsty@greenhive.co.uk.
Not a lot tends to happen in QueensPark so our pop up stall made a welcome change from the norm…
*Free stuff*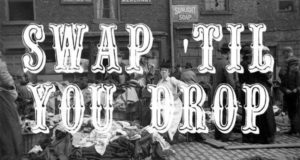 Don't shop, swap! Bring the things at the back of your wardrobe that you no longer want but are in a good condition, swap them for something new and update your wardrobe for free! This Friday 3rd August at the Old Links School, 7pm.