Many are speculating that the event this Saturday will attract the largest turn out yet in the series of marches across Scotland for Scottish Independence. The organisers however appear to be facing opposition from the public body HES.
Historic Environment Scotland have denied the use of Hollyrood park by All Under One Banner to hold their after march rally based on the claim that they have to remain politically neutral.
The news of this set back has sparked a number of pop up Facebook events that just so happen to be taking place at the venue around the same time such as…
And many others.
AUOB are meeting with HES again in a last ditch effort to get permission to hold the organised rally in the interest of public safety. If AUOB prove to be unsuccessful in their negotiations at least there may be some Jeely Pieces or a spot of Croquet available on the day.
Not a lot tends to happen in QueensPark so our pop up stall made a welcome change from the norm…
*Free stuff*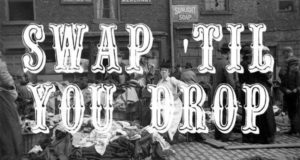 Don't shop, swap! Bring the things at the back of your wardrobe that you no longer want but are in a good condition, swap them for something new and update your wardrobe for free! This Friday 3rd August at the Old Links School, 7pm.