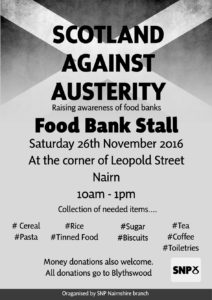 Every day there are people in our area who face financial difficulty and struggle to put food on the table. These people have no choice but to turn to foodbanks for help, it is an issue present in our own town, although many do not hear or see of it, the fact is the problem exists. Foodbanks rely on the generous donations of others to continue providing for those most in need, it is important to highlight this issue to generate support for those offering help.

Foodbank use is at an all time high, the Trussell trust is a charity that support Foodbanks right across the UK and publish statistics on an annual basis. This charity gave out over 1.1 Million three day emergency food supplies to those in crisis last year, 3,245 of these were in the Highlands. The number of people who are turning to foodbanks are increasing year on year with the most recent figures showing a 2% rise on the previous year. The number one reason for referral to foodbanks are benefit delays followed by those on a low income. In order to receive a food parcel from a foodbank you need to obtain a foodbank voucher, these are available from local community organisations.

The Highland Foodbank is run by Blythswood Care with centres located across Highland including one in Nairn. With Christmas just round the corner this is the time of year where it is tougher for those in a position with little to no money. SNP Nairnshire will be holding another food bank stall to encourage as many donations as possible to the Foodbank ahead of December. The stall will be held on Saturday the 26th at the corner of Leopold Street between 10am and 1pm, much needed items as well as food products include toiletries such as soap, razors and sanitary towels. Money donations are also welcome, everything collected will go directly to Blythswood.

Let's all do what we can to give those struggling a good christmas this year.

**press release from the Highland Council SNP group**

Councillors today rejected an SNP proposal intended to enable the public to ask questions of Council leaders in their communities.

Today the Lib Dem Group proposed that members of the public should be allowed to ask a 1 minute question at Full Councils, with the whole session taking no longer than 20 minutes.  Councillors debated the merits of this, with the Independent Group suggesting the idea be thrown over to the Re-Design of the Council Board for them to consider. Opponents of this said that this was just "kicking it into the long grass".

The SNP Group Leader, Cllr. Maxine Smith put forward a further amendment that suggested her Group wanted to engage the public to a greater extent and that the Lib Dem motionb didn't for far enough.  She proposed that the public should be able to ask questions on the Council's website, and receive an answer, which will be published and filed under a topic heading so that people can easily find it with a simple search.  The SNP Group further wanted a question and answer forum to become part of the community planning district partnership meetings going forward.

The Lib Dems and the Independents offered that the SNP amendment be attached to their own, as they both felt it held great merit and was a good idea.   However, when it came down to the vote the SNP amendment was defeated, with the Independent Administration winning through, meaning the suggestion would be taken to the Re-Design Board.

Speaking about this debate today, Cllr. Maxine Smith said, "I thanked both Groups for saying that they liked the SNP proposals, but unfortunately they didn't follow through in voting for it, instead simply voting for their original ideas. The SNP Group feel it is imperative to engage better and wider with the general public when looking at service delivery, as they know what they want and what is important to them.  As councillors we do regularly speak to our constituents, but the website idea gives the opportunity for anyone, who wouldn't normally participate to freely and easily ask a question that must be answered promptly. Furthermore, if we take forward our suggestion that our community planning partnerships should include a public question and answer session, this would be taken at district level which interacts with a wider audience, who are just not city-based.  It also offers a chance to do it any time, day or night.

After the break in Full Council, both the Leader of the Council, Cllr. Margaret Davidson and the Convener, Cllr. Isobel MacCallum said they liked both of our ideas and would investigate them further with a view to implementation.  So even though we may have lost the chamber vote – we won the point."
ENDS

This year's Games day saw another great turn out and the weather was perfect for it too. The Nairn Games is probably the most anticipated event in our annual calendar and remains free for everyone to enjoy. This year we had a special guest as Carol Vorderman paid us a visit and oversaw the days proceedings.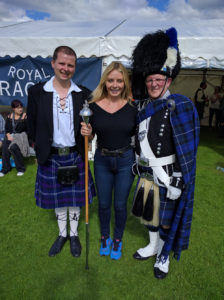 Our local branch held a stall which was well attended and did a great job raising funds. Fergus Ewing MSP paid a visit and took time to speak to the stalls and visitors on site. Drew Hendry MP held a stall to raise awareness and gain support for the campaign to save Fort George.

[IMG-Gal id=193]
Overall another great event enjoyed by many, here's looking forward to next years 140th Nairn Games.